by Jake Tapper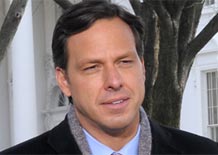 The Obama administration asked the U.S. Supreme Court Friday to reject a request for a hearing from 17 Chinese Muslims currently being held at Guantanamo Bay Naval Base, arguing they have no right to come to America despite a district judge's orders last Fall that they immediately be brought to the U.S. and released.
"Petitioners are free to return to their home country, but they understandably do not wish to do so, because they fear inhumane treatment there," reads the filing, signed by US Solicitor General Elena Kagan, Assistant Attorney General Tony West, and other Justice Department officials. "Petitioners are also free to go to any other country that is willing to accept them."
Many European countries are waiting for the US to accept the Uighurs before they agree to accept any more detainees from Guantanamo, but there is strong resistance from Congress, which recently voted to keep any detainees out of the US -- even out of US prisons.
But not to worry -- the Obama administration says the Uighurs' detention isn't so bad, considering.
"In contrast to individuals currently detained as enemies under the laws of war, petitioners are being housed under relatively unrestrictive conditions, given the status of Guantanamo Bay as a United States military base," Kagan writes, saying they are "in special communal housing with access to all areas of their camp, including an outdoor recreation space and picnic area." They "sleep in an air-conditioned bunk house and have the use of an activity room equipped with various recreational items, including a television with VCR and DVD players, a stereo system, and sports equipment."
On October 7, 2008, the D.C. District Court Judge Ricardo Urbina ordered that all 17 Uighurs be released into the United States by Friday, October 10.
The Bush administration appealed the case to the DC Circuit Court which on February 18, 2009, reversed the lower court's decision.
On April 3, 2009, the Uighurs asked the US Supreme Court to hear their case.
The Obama administration on Friday urged the Supreme Court to not hear the case of the Uighurs, and to uphold the appellate court ruling.
You can read the filing in the case Kiyemba v Obama HERE.
Ironically, the Obama administration is now using Congress's refusal to allocate funding for the closing of Guantanamo as further reason why the Uighurs should not be freed.
http://blogs.abcnews.com/politicalpunch/2009/05/obama-administration-asserts-uighur-detainees-have-no-right-to-come-to-us.html