When people sign up for Twitter, post once, then never return.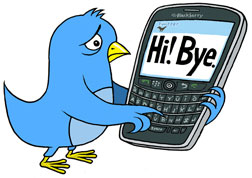 After examining some 300,000 Twitter accounts, a Harvard Business School professor reported last week that 10 percent of the service's users account for more than 90 percent of tweets. The study dovetails with recent analysis by the media research firm Nielsen asserting that 60 percent of Twitter users do not return from one month to the next. Both findings suggest that, thus far, Twitter has been considerably better at signing up users than keeping them.
Which got us to thinking—there must be a legion of Twitterers out there who sign up, tweet once, and never return. In the spirit of the great blog One Post Wonder, "a collection of blogs that have one post," we set out to find these orphaned tweets. Different people obviously have different tweet metabolisms, but we decided that any account that's been dormant for at least six months is fair game. We found several thousand of them.
Naturally, many orphan tweets betray skepticism about microblogging. "I don't get it... what's the point of this thing?" read ben_pursell's first and last tweet. "Twitter deez nutz," remarked beebles, rather caustically, before signing off for good. Yet a surprising number of one-and-done Twitterers demonstrate keen enthusiasm, leaving us to ponder what led them to change their minds:
sk8ie I'm here!
7:42 AM May 16th, 2008

micatron sign me up damn it!
9:28 AM Sep 11th, 2008

treyharness This technology is awesome. If you haven't signed up already, do it now so we can all stay connected. Its much easier than email or phone.
7:25 PM May 7th, 2008
Some one-time users don't seem to understand what kind of service they've signed up for.
brittanyblevins what kind of donuts are you offering?
12:23 PM May 8th, 2008

reginarowland o1o6AqhQ0B
9:46 PM May 19th, 2008

pmosterday Director of Advancement
12:55 PM Nov 20th, 2008
The lion's share of these singular postings describe a discrete experience or a current mood. This is probably because an orphan tweet is also a first tweet, and first-timers typically stick to answering the question hovering above the Twitter dialog box: "What are you doing?"
beckysomsel heading north for a party!
6:44 AM Dec 5th, 2008

anord04 eating a miniature pie
10:21 AM Jun 23rd, 2007

kttheet Wearing a gigantic t-shirt (2XL).
9:56 PM Apr 22nd, 2008

apsolutely4me picking lint from Judy's naval while she is napping!
4:10 PM Sep 7th, 2008

ChristianDA Designing performance nutrition for Navy SEALs. Fighting government corruption (tall order). Telling American stories.
12:58 PM Nov 28th, 2008
Because orphan tweets are followed by a long silence, these ephemeral status reports take on a strange permanence. Is anord04 still working on that miniature pie? Was it bigger than it first seemed?