Freehold, Iowa - Christian children across America were asked to depict the most important issue in America today, as reported on television. They were put in a room with several TV sets, tuned to every major news network. Armed with a box of crayons, a piece of paper, and their own Christian perspective, the kids were given 2-hours to come up with a drawing to be entered into the "Current Events Coloring Contest."
Contest Winner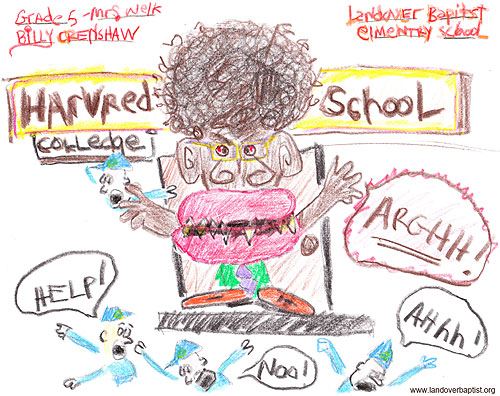 Grand Prize:
Landover Baptist congratulates William Evans Crenshaw (Billy) from Freehold, Iowa as this year's winner, selected from over 2,000 entries. His Godly portrayal of Liberal Harvard Professor, Henry Gates standing on his porch, terrorizing local Christian police officers is posted above.
Contest winner, Billy Crenshaw receives the Grand Prize - a Mel Gibson signed copy of "The Passion of the Christ" on High Definition Blu-Ray.
http://www.landoverbaptist.org/2009/august/coloringcontest.html