Los Angeles, 2009: California may be the eighth largest economy in the world, but its state staff are being paid in IOUs, unemployment is at its highest in 70 years, and teachers are on hunger strike. So what has gone so catastrophically wrong?
by Paul Harris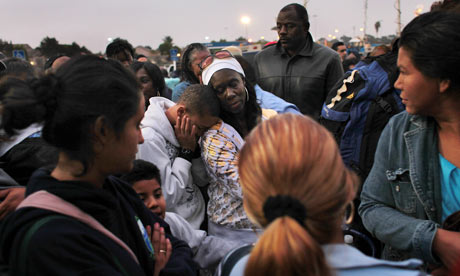 California has a special place in the American psyche. It is the Golden State: a playground of the rich and famous with perfect weather. It symbolises a lifestyle of sunshine, swimming pools and the Hollywood dream factory.
But the state that was once held up as the epitome of the boundless opportunities of America has collapsed. From its politics to its economy to its environment and way of life, California is like a patient on life support. At the start of summer the state government was so deeply in debt that it began to issue IOUs instead of wages. Its unemployment rate has soared to more than 12%, the highest figure in 70 years. Desperate to pay off a crippling budget deficit, California is slashing spending in education and healthcare, laying off vast numbers of workers and forcing others to take unpaid leave. In a state made up of sprawling suburbs the collapse of the housing bubble has impoverished millions and kicked tens of thousands of families out of their homes. Its political system is locked in paralysis and the two-term rule of former movie star Arnold Schwarzenegger is seen as a disaster – his approval ratings having sunk to levels that would make George W Bush blush. The crisis is so deep that Professor Kevin Starr, who has written an acclaimed history of the state, recently declared: "California is on the verge of becoming the first failed state in America."
Outside the Forum in Inglewood, near downtown Los Angeles, California has already failed. The scene is reminiscent of the fallout from Hurricane Katrina, as crowds of impoverished citizens stand or lie aimlessly on the hot tarmac of the centre's car park. It is 10am, and most have already been here for hours. They have come for free healthcare: a travelling medical and dental clinic has set up shop in the Forum (which usually hosts rock concerts) and thousands of the poor, the uninsured and the down-on-their-luck have driven for miles to be here.
The queue began forming at 1am. By 4am, the 1,500 spaces were already full and people were being turned away. On the floor of the Forum, root-canal surgeries are taking place. People are ferried in on cushions, hauled out of decrepit cars. Sitting propped up against a lamp post, waiting for her number to be called, is Debbie Tuua, 33. It is her birthday, but she has taken a day off work to bring her elderly parents to the Forum, and they have driven through the night to get here. They wait in a car as the heat of the day begins to rise. "It is awful for them, but what choice do we have?" Tuua says. "I have no other way to get care to them."
Yet California is currently cutting healthcare, slashing the "Healthy Families" programme that helped an estimated one million of its poorest children. Los Angeles now has a poverty rate of 20%. Other cities across the state, such as Fresno and Modesto, have jobless rates that rival Detroit's. In order to pass its state budget, California's government has had to agree to a deal that cuts billions of dollars from education and sacks 60,000 state employees. Some teachers have launched a hunger strike in protest. California's education system has become so poor so quickly that it is now effectively failing its future workforce. The percentage of 19-year-olds at college in the state dropped from 43% to 30% between 1996 and 2004, one of the highest falls ever recorded for any developed world economy. California's schools are ranked 47th out of 50 in the nation. Its governm
http://www.guardian.co.uk/world/2009/oct/04/california-failing-state-debt