Japanese construction firm Shimizu Corporation has developed a series of
bold architectural plans
for the world of tomorrow. Here is a preview of seven mega-projects that have the potential to reshape life on (and off) Earth in the coming decades.
* * * * *
- Luna Ring
In response to the ever-growing demand for energy, Shimizu has developed plans for the Luna Ring, a project that seeks to transform the Moon into a massive solar power plant.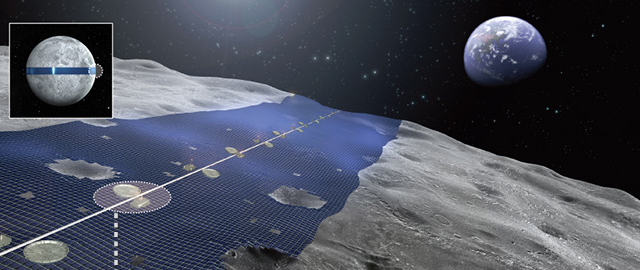 Luna Ring's 11,000-kilometer (6,800-mile) "solar belt" spans the Moon's equator
Electricity collected by the Luna Ring's enormous "solar belt" is relayed to power conversion facilities located on the near side of the Moon. There, the electricity is converted into powerful microwaves and lasers, which are beamed at Earth. Terrestrial power stations receive the energy beams and convert them back to electricity.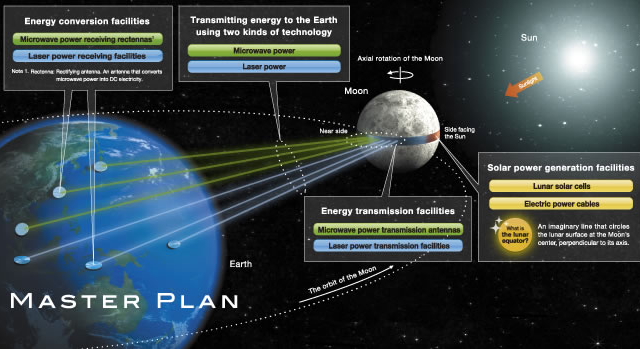 Luna Ring feeds power to energy-hungry Earth
The solar power plant is built mainly using lunar resources. Moon rocks and dust are used to manufacture building materials such as cement, bricks and glass fibers. Water is produced through a chemical process involving lunar soil and hydrogen.
Large machinery and equipment from Earth is assembled in space and landed on the lunar surface for installation. Much of the construction is performed by robots controlled by people on Earth, and a team of human astronauts is stationed on the Moon to supervise the robot operations. [More]
* * * * *
- Green Float
Shimizu's Green Float project seeks to build "botanical" cities that float like giant lily pads in the equatorial Pacific, where sunlight is plentiful and the impact of typhoons is minimal.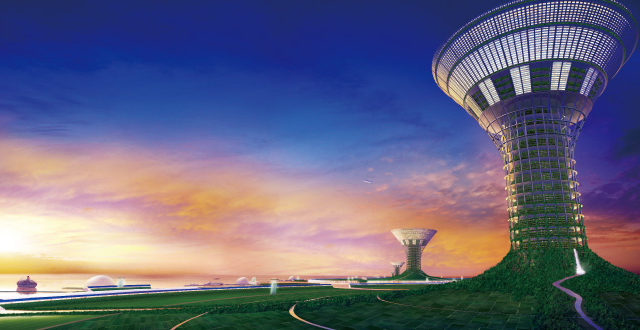 Lily pad-like cities at sea
Each floating island features a 1,000-meter (3,300-ft) central tower. The lower section of the tower serves as an industrial area with offices and factories employing 10,000 workers, while the upper section functions as a residential area for 30,000 people. Another 10,000 residents live at ground level, in low-rise townhouses near the beach.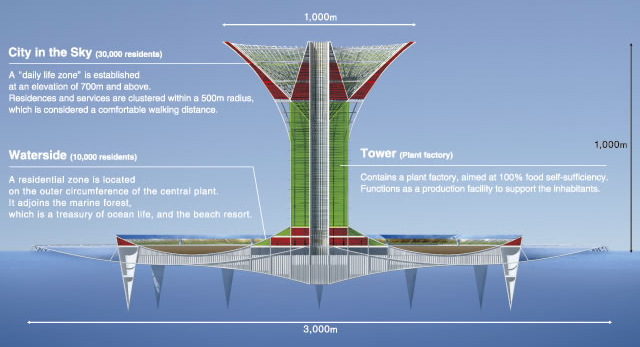 Green Float islands are 3 kilometers (1.9 mi) in diameter and support a population of 40,000
The typical Green Float island landscape consists of forests, grasslands, waterways and reservoirs. A portion of the land is set aside for agriculture and some of the shallow beaches are used for cultivating seafood, making the islands 100% food self-sufficient.
The eco-friendly Green Float cities rely on a variety of natural energy sources, including wave, wind and solar power, as well as ocean thermal energy conversion.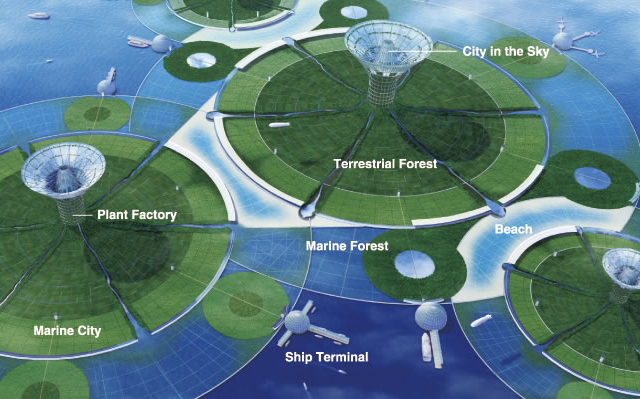 Green Float islands join to form a floating metropolis
Green Float islands are built upon a floating base of connected hexagonal tubes that each weigh 7,000 tons and measure 20 meters (65 ft) across and 50 meters (165 ft) deep. The primary structural material for the honeycomb-like base, as well as for the island's buildings, is magnesium alloy. Seawater — which is composed of 0.13% magnesium by weight — is an abundant source of magnesium. One ton of the material can be extracted from 770 tons of seawater. [More]
* * * * *
- Mega-City Pyramid
Shimizu's proposed Mega-City Pyramid is a self-contained city for one million people.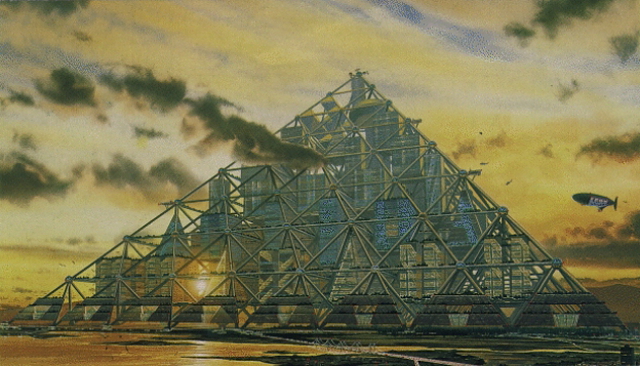 The Mega-City Pyramid stands 2,000 meters (1.25 miles) high
The pyramid-shaped hyperstructure is an assembly of skyscrapers suspended within a skeleton of 350-meter (1,150-ft) long shafts made from lightweight materials (such as carbon and glass fibers).
http://pinktentacle.com/2010/06/futuristic-mega-projects-by-shimizu/