They claim to be able to raise the dead and cause miracles, such as the multiplication of Thanksgiving turkey dinners. They
burn
"witchcraft items" and "idols." They hold
mass exorcisms
to cast out alleged evil spirits they say cause lust, pornography, addiction, homosexuality, bisexuality, and perversion. They
claim
to be able to heal HIV, AIDS, Hepatitis C, Glaucoma, and cancer, and to
break
"generational curses" and "witchcraft curses." Who are they? Here are a few overviews (
1
,
2
,
3
.)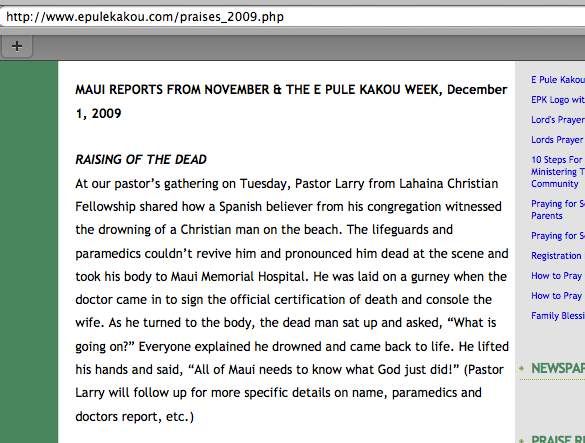 They compare opponents of their movement to rats that will be exterminated and one of their leaders has predicted that the regime they're working to create will initially "seem like totalitarianism". They're closely tied to the notorious, so-called "kill the gays bill" before Uganda's Parliament. They're behind Sarah Palin and one of their "prophets" has become the de-facto prayer leader for the Republican Party.
While America has fixated on the Tea Party movement, a radical, right-wing charismatic evangelical movement is burrowing into the power structures of major American cities, such as Newark, NJ [1, 2], and even entire states, such as Alaska and Hawaii.
In Hawaii, they claim to be fielding both a Republican and Democratic candidate in the 2010 race for the governor's seat. Both candidates are staunchly opposed to gay marriage and same-sex civil unions as well as legalized abortion, and both can frequently be found onstage together at movement conferences.
In 2006, movement leaders paid airfare, conference fees, and lodging costs so Hawaii Lt. Governor Duke Aiona and his wife could attend an Argentina conference of the movement which featured, as a prominent speaker, celebrated exorcist and New Apostolic Reformation leader Cindy Jacobs (see video links in first paragraph for footage of Jacobs in action.) Video footage from the event shows Aiona praying together with the First Lady of Uganda Janet Museveni.
Hawaii's Republican Lt. Governor James "Duke" Aiona has publicly dedicated his state and its school to Jesus and declared his desire to "disciple the nations, here in Hawaii and everywhere else."
[video 1, right: Duke Aiona dedicates Hawaii to Jesus. video 2, left: Aiona announces his goal of "discipling the nations" at 2009 conference.]
Endorsed by the current Republican candidate for the governorship of Hawaii, Duke Aiona (see video at end of post), E Pule Kakou is a yearly, week-long prayer initiative broadcast on major networks and multiple cable channels in the Hawaiian islands.
According to the E Pule Kakou official web site, during E Pule Kakou week in 2009, several people were successfully raised from the dead, a man was healed of an incurable blood disease, and, during a church-sponsored Thanksgiving turkey dinner, there was a miraculous, divine multiplication of turkey dinners reminiscent of the multiplication of loaves and fishes described in the New Testament of the Bible.
This might seem silly to secular America, good grist for a hearty mocking by John Stewart or Stephen Colbert. But there are real-world implications to the meteoric rise of the New Apostolic Reformation. If Sarah Palin runs for president in 2012 we could have a New Apostolic Reformation president, and the Medieval, demon haunted movement is really impacting people's lives.
http://www.dailykos.com/storyonly/2010/7/17/885141/-They-Do-Exorcisms,-Burn-Idols,Are-Taking-Whole-US-States