The claimed economic and social crisis means circumstances are ripe for a bold ideological response, yet it hasn't emerged

by
Antony Lerman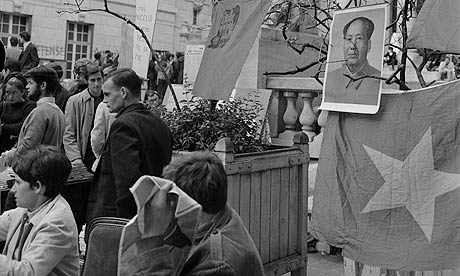 Pro-communist protests such as this one at the Sorbonne University in 1968 were once common, but where is today's movement for change? Photograph: Bettmann/Corbis
Just as the heatwave ended and the sun went in, the government announced that "the deepest recession in Britain's post-war history was even more severe than previously feared". For some people this news may trigger further rounds of intense discussion about what the economic statistics mean and what the prospects are for a sustained recovery.
Very important, I'm sure. But for most of us, I guess – especially if, like me, your grasp of economic theory struggles to get beyond the 1960s Tory prime minister Lord Home's reliance on matchsticks – our thoughts turn to the human cost, the devastating impact on people's lives, whether for us personally, for already disadvantaged groups, the country as a whole, developing nations, or the more than 2 billion people already living on less than $2 per day.
Predictions about the consequences of the deficit-reduction measures proposed are already dire. And for many millions, the debilitating impact of financial retrenchment is a reality today. Commentators of all political stripes are falling over each other to tell us that state social programmes will collapse. Unemployment will rise massively. Millions will be impoverished. Health services will be curtailed, pensions reduced, infrastructure projects cut, educational opportunities diminished. Worldwide living standards will deteriorate. And things won't get better any time soon.
http://www.guardian.co.uk/commentisfree/2010/jul/13/anti-capitalist-ideology-economic-crisis