Excessive consumption in rich countries 'takes food out of mouths of poor' by inflating food prices on global market
by Adam Vaughan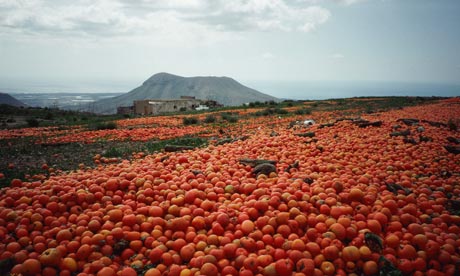 Eliminating the millions of tonnes of food thrown away annually in the US and UK could lift more than a billion people out of hunger worldwide, experts claim.
Government officials, food experts and representatives of the retail trade brought together by the Food Ethics Council argue that excessive consumption of food in rich countries inflates food prices in the developing world. Buying food, which is then often wasted, reduces overall supply and pushes up the price of food, making grain less affordable for poor and undernourished people in other parts of the world. Food waste also costs UK consumers £10.2bn a year and when production, transportation and storage are factored in, it is responsible for 5% of the UK's greenhouse gas emissions.
Tristram Stuart, author of a new book on food waste and a contributor to a special food waste issue of the Food Ethics Council's magazine, said: "There are nearly a billion malnourished people in the world, but all of them could be lifted out of hunger with less than a quarter of the food wasted in Europe and North America. In a globalised food system, where we are all buying food in the same international market place, that means we're taking food out of the mouths of the poor."
Stuart calculated that the hunger of 1.5bn people could be alleviated by eradicating the food wasted by British consumers and American retailers, food services and householders, including the arable crops such as wheat, maize and soy to produce the wasted meat and dairy products. He added that the production of wasted food also squanders resources, and said that the irrigation water used by farmers to grow wasted food would be enough for the equivalent domestic water needs of 9bn people.
http://www.guardian.co.uk/environment/2009/sep/08/food-waste