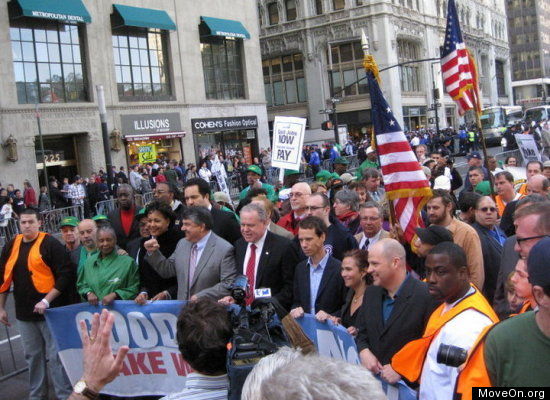 by
Sam Stein
Thousands of people marched on Wall Street on Thursday afternoon in a major protest of financial sector greed and lending practices by big banks.
Taking to the streets of downtown Manhattan, an expected gathering of 10,000 AFL-CIO union members shouted and jeered at the offices surrounding them, demanding three major changes to Wall Street culture. The first is to call off the lobbyists fighting regulatory reform. The second is to stop the incessant focus on market speculation over business lending. The third is to chip in money for job creation initiatives.
"Our history and our heritage teach us that America is about more than making easy money and looking out for number one. Our lives and our livelihoods are all bound together. And we are all paying the price for those who knew no limits on their greed," AFL-CIO President Richard Trumka was to say, according to advance remarks. "Eight and a half million lost jobs -- that's the price of greed -- that's the real cost of bankers' bonuses and private jets and cute tricks like the one that got Goldman Sachs in trouble last week."
The remarks were far more condemning in tone than those offered by President Obama last week during a speech at Cooper Union, in which he urged financial industry titans to join him in passing reform. But the underlying message was largely the same: the mess made by Wall Street still needs cleaning.
The rally, one of the largest in recent memory to take place at the epicenter of the financial world, was timed to begin at 4:00 p.m. on the dot, the same hour when the trading bells close. Dozens of individual unions were expected to be in attendance, with a slow march planned down a six-block route followed by Trumka's speech at the iconic bull at the corner of Wall Street and Broad.
"He's going to grab the bull by the horns, figuratively speaking," said AFL-CIO spokesman Eddie Vale.
http://www.huffingtonpost.com/2010/04/29/march-on-wall-street-unio_n_557400.html